Home > Products >Mining lighting>
DGS18(24)/127L(B) Mining Explosion Proof LED lamp
DGS18(24)/127L(B) Mining Explosion Proof LED lamp
Application
It can be used used in coal mining,under grounding tunnel, working face, chamber, transform, pump station,underground parking lot as a lighting device.
It can be used in the environment which contents methane,dust and other explosive gases as a fixed lighting equipment.
Features
High efficiency energy saving: adopting LED chip from Cree America, low power consuming,long duration,whose duration may be able to reach more than 100 thousand hours.
The shell is made of aluminum alloy by means of die-casting forming, and the surface is treated with high-temperature static power coating,with high strength and anti-corrosion.
Heat-resistant and impact-resistant 7J toughened glass that is able to with stand high energy impact.
Adopting three-chamber structure design of light source chamber, power supply chamber and connection chamber, which reduces heat conduction to constant current source of stainless steel of 304# that has excellent anti-corrosive property.
Reasonable light distribution is equipped with elaborately wrought pure aluminum reflector,with high reflection efficiency.
Wide voltage input, instantaneous starting, adapt to voltage fluctuation from 90 to 150V with stable luminace.
Several LED light source chips are arranged on the same plan elaborately, unidirectional light emitting,no side-emitting light,high luminous efficiency,high color rendering property.
Special constant current source,constant output power, with protective against open-circuit, guaranteeing long service life and reliable working of light source.
Many kinds of installing method, which is able to fit in different situation.
Light distribution curve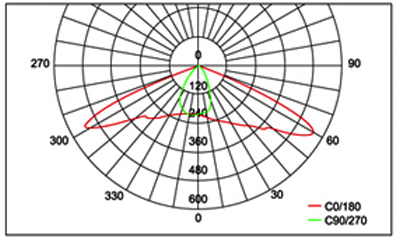 Installation mode
Main technical parameters
Type

Rated voltage

(V)

Rated power

(W)

Cable O.D.

(Ωmm)

Weight

(kg)

Standard form

Illumination

(lx)

Luminous flux

(Lm)

DGS18/127L(B)

127

18

10-14

10

3W×21LED

3m/≥40

1440

DGS24/127L(B)

24

10-14

10

3W×30LED

3m/≥50

2000